"DUVANIŠTE" MARKET
LOCATION AND PURPOSE
For the part of Nis called Duvaniste, there is a market place called "Duvaniste Market", predicted by the regulatory plan to be in the region between the river Nisava and Medijana Boulevard to Proleterska Street, in the scope of the area set for business facilities. The purpose of "Duvaniste" market is business, trade, and market trade of agricultural products.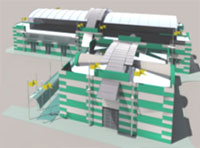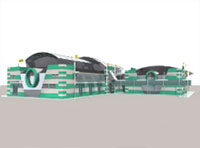 "Duvaniste" market consists of two parts: Closed market and Trade centre.

"Closed market" was planned in atrium style with ground floor + 1 (gallery). On the ground floor, in the atrium part, there are 96 booths with dimensions: 80x170cm. There are shops with the plumbing all around this part. In the left part of the closed market there is space predicted for selling dairy products (dairy hall). On the second floor there are shops all around, with the entrance from the gallery.

The Trade Center is also planned as a gallery. The closed market is connected to the Trade Center by a closed passage in the same level.

In the shops of the closed market, as well as in these of the trade center there will be commerce of various goods, such as groceries, clothing, footwear, etc. Seasonal fruit and vegetables will be sold on the market booths. In the dairy hall there will be refrigerators with dairy products, fish and meat products when the sale starts.

Both of these facilities will be connected to public utilities (electricity, water supply and sewerage system, heating, etc.).
CONSTRUCTION
The main project was done by the Planning Office "ABR" from Nis, the original idea being suggested by the architect Sasa Budjevac. The contractor (chosen by the procedure of public selection) is the Construction firm "Kosanica" from Nis. The construction deadline is planned for September, 2006.